Participation
With the exciting news of hitting our goal to recruit 5,000 participants into the study, we are moving onto the next phase of the Crohn's and Colitis Canada GEM Project - the Impact Phase. In this phase, we have adjusted our eligibility criteria to focus on the recruitment of healthy subjects who are part of a multiplex family, as well as enrolling current and newly enrolled subjects into our repeat sampling initiative.
How do I know if I am from a Multiplex Family? Am I eligible to participate?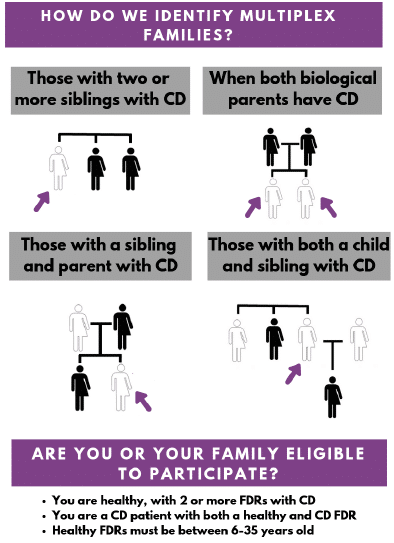 For our study, a potential study participant is defined to be from a multiplex family if you have two or more
First Degree Relatives (FDRs) with Crohn's Disease (CD). An FDR is anyone who is immediately related to you – Siblings, Parents, and Children all count. This means that you would be eligible to participate if you have two of any of these types of relatives who have been diagnosed with CD, and you fit our eligibility criteria for being healthy. Healthy participants cannot have a prior diagnosis of IBD, IBS, or other gastrointestinal disorders, and cannot be experiencing any frequent or re-occurring gastrointestinal symptoms.
Still not sure if you are eligible? Reach out to us and we can help! .
If you have been diagnosed with CD, and you have one or more FDRs with CD, and also a healthy FDR, you can participate too! This way we can look further into the hereditary and genetic associations with the development of CD in our cohort.
Why should I provide additional samples regularly? Am I eligible to participate in repeat sampling?

These additional biological samples are being collected with the hope of capturing any potential changes that occur over time in our healthy participants. The information collected from your samples provides us with valuable information regarding the gradual changes that may occur within the body of those who go on to develop CD versus those that do not.  Coupling this information with your biannual health review, we will be able to get a better idea how your genetics, environment, and microbiome have changed over time, and how that could play into or protect you from the development of CD.  This optional, additional portion of the study is available for healthy Subjects who are already enrolled in the GEM Project and are able to get to one of our participating Recruitment Sites to provide the samples, as well as our newly enrolled multiplex family Subjects. Research sites that are participating in the repeat sampling are currently located in Vancouver, Calgary, Edmonton, Toronto, and Montreal. Want to learn more? Contact us!